News!
NEW! First Short Story Published in Deep Overstock October, 2022
In November I was short listed for the Perito Prize for a short story on accessibility and inclusivity.
More Poems Published
I won my first cash prize in the Dancing Poetry Contest 2020
My shortlisted poem was published in Hysteria 6 in November 2017
Two poems will be published in Orbis Literary Journal Issue #181, November 2017
I'm Published!

- January, 2016

I've had my first poem published! It's in Skylight 47 - a poetry magazine which has the tag line 'possibly Ireland's most interesting poetry publication'
Poem

- March, 2013

To the imperfect yet no less valuable Teach Reality
Featured Reader

- February 2013

I was one of the featured readers at the Over the Edge monthly open reading in Galway.
Short Story

- Oct 2011

I use many of my short stories for submissions, but posted one on the web site. More to follow.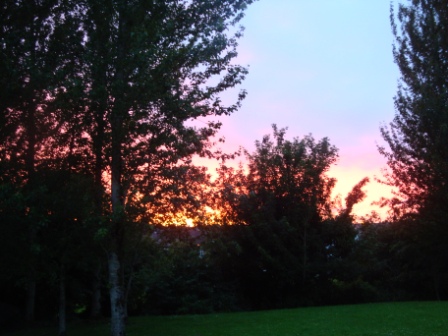 Sunset in Ireland - the picture does not do it justice
Welcome to the Website of Writer Marie Dolores
This is a forum for some of my writings as well as a few of my favorite things.
Be sure to check out my blogs for current musings.


What does MD stand for?
I can now reveal the answer since I was long-listed in the
Over the Edge New Writer of the Year contest under by pen name:
Marie Dolores
It rolls off the tongue a little easier than my given surname.
What do I write?
Whatever the muse chooses to send me at any point in time.
My current concentration is on a series of fantasy novels that are in process along with poetry;
a few short stories thrown in here and there, some social commentary essays,
and a novella I started recently.
I'm looking for an agent or publisher for the novels.
As genres evolve the current classification would likely be paranormal romance.
Here's the current blurb or mini synopsis for book one that would appear on the back cover.
Use the contact page if you'd like more information.
Wishing on a star, Nathan, a 250 year old wizard draws Aisling, a 21st century woman, through the fog that shrouds the veil between worlds into his 17th century-like realm. Initially attracted by her culinary skills, he discovers she has knowledge that will help him decode a cypher and unscramble an image to uncover the key that unlocks a weapon the kingdom needs to win a war against rogue wizards. It takes a near death experience for them to finally open up and discover the love that has eluded them.
Quote of the While
I once lived among humankind, and found them in their generality to be cruel and cold, and yet could mention the names of three or four that were like angels. - from The Secret Scripture by Sebastian Barry